BOOKS PUBLISHED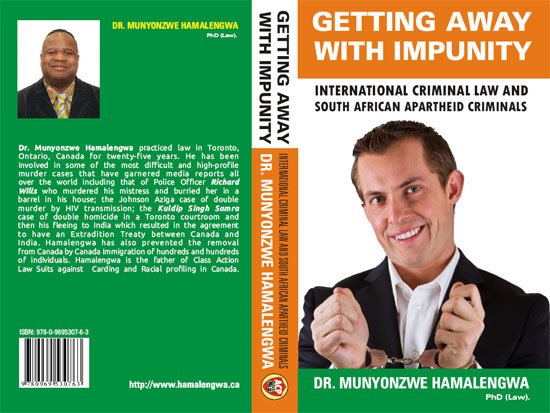 YEAR

1988

International Law of Human Rights in Africa: Selected Documents and Annotated Bibliography, edited with Lees Flinteman and Victor Dankwa, Dordrecht; Boston: Martinus Nijhoff, Pub.,

1991

Thoughts Are Free, Prison Experience and Reflections On Law And Politics in General, Africa in Canada Press, Toronto, ON


1992

Class Struggles in Zambia 1889-1989 and the Fall of Kenneth Kaunda, 1990-91
Lanham, University Press of America.

2003

How Are We Gonna Win This One? Doing Time For Clayton C. Ruby, Criminal Lawyer Extraordinaire, Toronto, Africa Press.

YEAR

SELECTED W

ORK

PUBLISHED IN BOOKS

1992

The Legal System of Zambia: Law, Politics and Development in Historical Perspective in The Law and Economic Development in the Third World' , P. Ebow, Bondzi-Simpson, New York: Praeger, 1992, pp. 21-41.

1986

'L' accumulation Primitive et la Reproduction de la Population Rurale En Afrique' In Havet , Jose. The village and the shantytown: retention and migration of the rural populations of Africa. [Le village et le bidonville: retention et migration des populations rurales d'Afrique.] Developpement Internationale Editions de l'Universite d'Ottawa/IDIC: Ottawa, Canada., 1986.


1984

'The Contradictions Of Post-Colonial Social Transformation: Mozambique, Angola And Zimbabwe', David Wilson, Africa: A Continent In Crisis, Toronto: OISE Press, 1984

1984

'Class and Nation: A Contribution to the debate on the Politics of Liberation in South Africa', David Wilson, Africa: A Continent In Crisis, Toronto: OISE Press, 1984


1984

'The Politics Of International Education', Canadian Union Of Education Workers (Local 3) 1984, Pp. 140

WORK IN PROGRESS (BOOKS)
| | |
| --- | --- |
| | |
| | | |
| --- | --- | --- |
| S.NO. | TITLE OF THE BOOK | MANUSCRIPT STATUS |
| 1. | The Practice of Law in Canada | MANUSCRIPT COMPLETED |
| 2. | Danger to the Public in Canada Under the Criminal Code and Immigration Act of Canada | MANUSCRIPT COMPLETED |
| 3. | Blacks in Law in Canada: first draft - judges and lawyers | MANUSCRIPT COMPLETED |
| 4. | 'Has the Canadian Charter of Rights and Freedom Demobilized Canadian Democracy'? | MANUSCRIPT COMPLETED |
| 5. | Equal benefit and Equal Protection of the Law: Collected legal Essays, 2 volumes | MANUSCRIPT COMPLETED |
| 6. | Critical perspectives on Criminal and International Criminal Law | MANUSCRIPT COMPLETED |
| 7. | The State of Emergency in Zambia Under International Law, (with Paulsen Himwiinga) | MANUSCRIPT COMPLETED |
| 8. | The Death Penalty in the Modern World, A critique (Editor) | MANUSCRIPT COMPLETED |
| 9. | Immigration Detention Law in Canada | MANUSCRIPT COMPLETED |
| 10. | African Canadians Under Legal, Judicial, Police, Political and Media Attack | MANUSCRIPT COMPLETED |
| 11. | Litigating Historical Injustices in the Courts: Selected Cases | ADVANCED MANUSCRIPT |
| 12. | Policing in a Multiracial Society | ADVANCED RESEARCH |
| 13. | Constitutional remedies | ADVANCED RESEARCH |
| 14. | Credibility | ADVANCED RESEARCH |
| 15. | Discretion | ADVANCED RESEARCH |
| 16. | Giants Of Justice The Nelson Mandela International Award In The Pursuit Of Justice | ADVANCED RESEARCH |